" Il Dojo è il luogo dove si pratica l'Aikido. Non è un semplice ambiente ma un
posto in cui deve regnare tranquillità, armonia, rispetto ed amicizia "
I corsi per adulti e bambini si svolgono nella palestra dell' Istituto scolastico Pio XII, un grande ambiente riservato, arieggiato e silenzioso.
Training is performed in the gymnasium hall of the Institute Pio XII, a large, reserved, well aired and silent area.
A disposizione dei nostri praticanti oltre 200 mq di tatami, 6 spogliatoi con docce calde e un campo in erba dove svolgere saltuari allenamenti.
The practitioners have at their disposal 200 mq of tatami, 6 changing rooms with hot showers and an outdoor area where occasional trainings are hold
A complemento della formazione tecnica è previsto lo studio delle armi proprie della disciplina quali il bokken (spada di legno) il jo (bastone) ed il tanto (pugnale)
The technical formation is completed with weapons training, boken (wooden sword), jo ( wooden staff) and tanto (wooden dagger).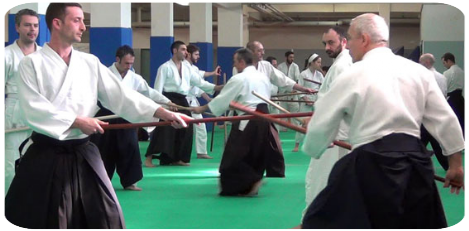 Le lezioni, per ambosessi di ogni età, sono accessibili a praticanti di tutti i livelli, con didattiche sia comuni che differenziate per gradi.
Lessons for both sexes of all age are within reach of practitioners of all levels, with both common lessons and differentiated for grades.